Looking for an intervention for older readers (grades 5–12)?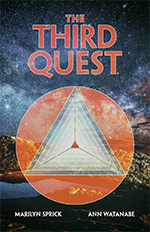 The Third Quest
From Read Well Authors
Marilyn Sprick and Ann Watanabe
A Powerful & Comprehensive Reading Intervention for Struggling Adolescent Readers
Wow!!! Impressive results . . . a win for our kids!!
Carol Sanders, Director of Teaching and Learning K–12 (retired)
Results from two field-test intervention groups: avg. gain of 35 wcpm and 26 wcpm
My students now LOVE to read out loud, have gained confidence in reading and are proud to let others know . . . I can't say enough good things about this program.
Comments from a field-test teacher (in her second year of teaching The Third Quest)
Go to TheThirdQuest.com to learn more. View the quantifiable results. Free interactive web meeting: Schedule a web meeting with Marilyn Sprick to determine whether this robust intervention is a fit for your students and schedules.
The Parallel Universe
Brand New From The Third Quest Series
Over the course of 41 video-based lessons, nationally recognized reading specialist and author Marilyn Sprick delivers explicit instruction of Word Study exercises, vocabulary tasks, narrative and informational passage reading, and comprehension building. Adult coaches—teachers and paraprofessionals guide small groups. Para pros, family members, and volunteers guide one-to-one tutorials.
Real-Life Results
Watch a video of Sam and his Parallel Universe coach—his mom, Laura. Hear Sam's impressive 70 WCPM improvement on a pre-post internal measure before and after completing the program. Students average a 30 wcpm gain on external measures.
LEARN MORE
Marilyn Sprick's Literacy for All
Virtual Workshop • The Third Quest

Learn how to teach The Third Quest reading intervention for fragile adolescent readers with joy and high success. One training, 2 sessions—Sept. 28 and Oct. 5. Click below to learn more or register.
REGISTER
Marilyn's presentations consistently have excellent ratings of 5.0 on a 5-point scale.
Fluency Boosters
Read Well Fluency Boosters from Ann Watanabe (coauthor Read Well 2) and Marilyn Sprick (lead author, Read Well K-2 reading series). This supplementary program will help students who are:
Accurate, but not fluent
Moving slowly through RW1, RW 1 Plus or RW2 Fluency Foundations, or RW 2.
Four- to ten-minute daily routines for use in tutorials, in intervention groups, as a small group warm-up, or as partner practice in the classroom.

Exclusively from Ancora Publishing.
LEARN MORE
Extra Practice
Learn strategies for bringing low-performing students to mastery.

Read More