Read Well Fluency Boosters
From Ann Watanabe (coauthor Read Well 2) and Marilyn Sprick (lead author, Read Well K-­2 reading series).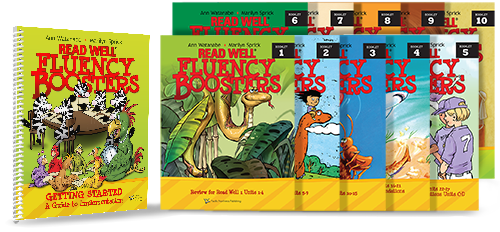 This supplementary program will help
to assist students who are:
Accurate, but not fluent
Moving slowly through Read Well 1, Read Well 1 Plus or Read Well 2 Fluency Foundations, or Read Well 2.
Ann and Marilyn have just completed this program for intervention work or extra practice.

Four- to ten-minute daily routines: The Read Well Fluency Boosters can be used with individuals in tutorials, with intervention groups, as a warm-up to small group instruction, or even with a heterogenous homeroom during an extended learning period.
LEARN MORE OR ORDER
Fillable Group Assessment Records
Downloadable PDFs

Scores automatically color code so you can easily see individual and group trends in your data.

LEARN MORE
Strong Programs,
Strong Results
Reading Core: Read Well K-2

Reading Intervention: Read Well K-2

Coordinated Spelling:
Read Well Spelling 1 and 2

Coordinated Writing:
Read Well 1 Composition
SIGN-UP & WIN the Read Well Fluency Boosters
Sign up
and automatically be entered in our raffle to
WIN
the Read Well Fluency Boosters Getting Started guide and two sets of student booklets.

By signing up, you will get connected with the Read Well K-2 authors and also receive updates about about tips, resources, training, and fun stuff.


SIGN UP!
Extra Practice
Learn strategies for bringing low-performing students to mastery.
Read More